Domenica & Michael
Thayer Hotel @ West Point
10/10/15
‍
When you're doing something as traditional as getting married … why not do it in style at the always-classic Thayer Hotel at West Point in New York? Domenica and Michael did just that. And the result? As you can see, it yielded some wonderfully timeless images showing friendship, elegance … and an unstoppable love.
‍
‍
About the Couple
Domenica and Michael have timeless style in everything they do. Whether it's their wedding day outfits or the way they treated their guests -- this couple just exudes class and sophistication. They made a great selection in choosing this very historic and tradition-oriented venue! Domenica has just the sweetest smile. I just love the tenderness between both her and her mother, as well as her and her groom. You can see it clearly in the photos of her -- that's the kind of genuine feeling that's impossible to fake! Location
If you want history, The Thayer Hotel is a great choice. This 151-room property is sometimes called the "Historic Hotel of America," and it's located on the banks of the Hudson River. It's situated on the campus of the United States Military Academy in West Point, New York. The hallways are lined with numerous pictures of past presidents and distinguished generals. And as you can see, the grand lawn provides a stunning backdrop for couples who crave that lush look. The rolling greenery is absolutely stunning in all seasons, and the view of the Hudson River provides a wonderful serenity that really pops during wedding ceremonies.
‍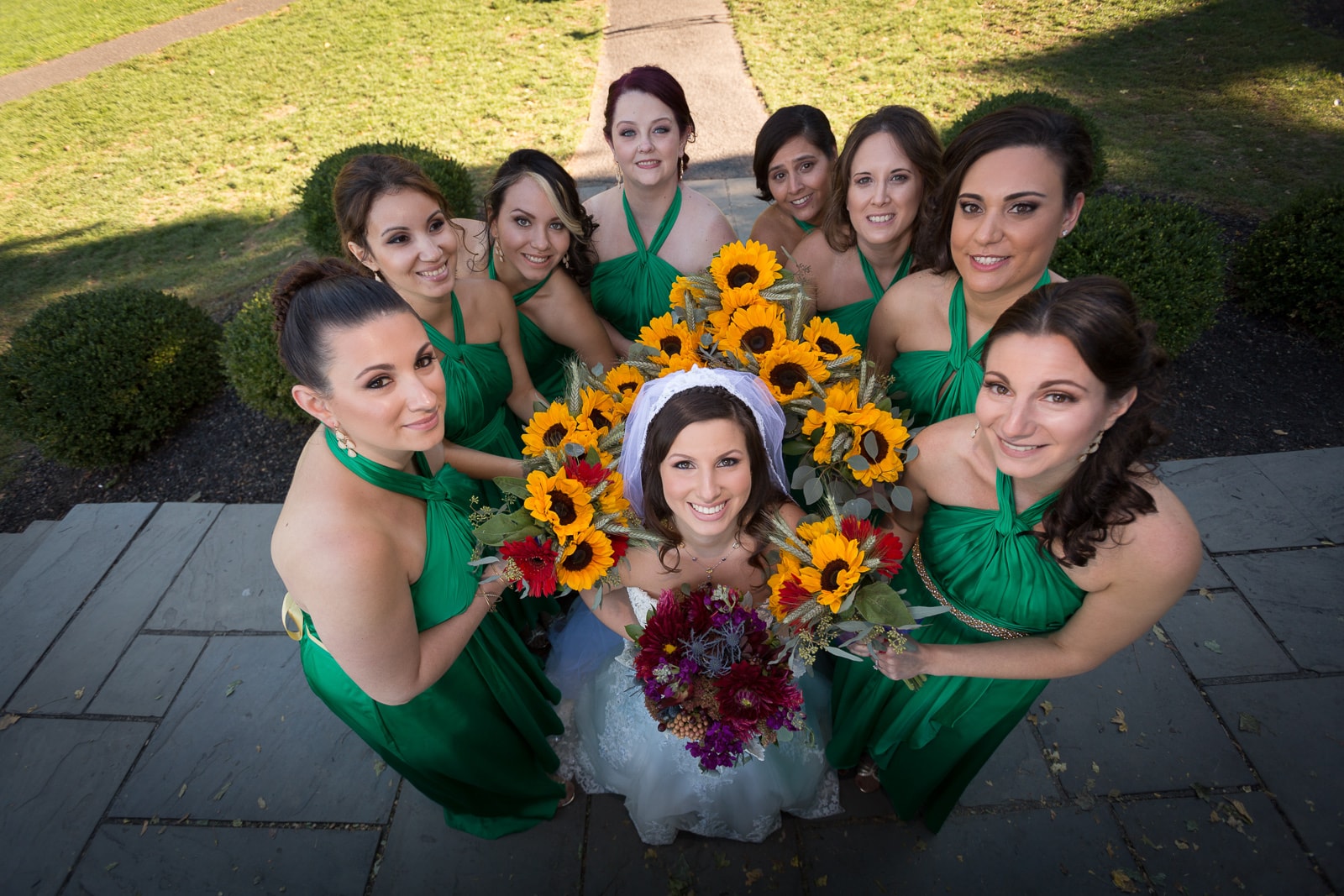 ‍
Personality
This couple is fun, fun, fun. If you don't know what I mean, check out that shot of Michael's groomsmen posing with the bridesmaid bouquets. And I can't forget the bridesmaid group shot -- the image of the ladies huddling together with their bouquets by Trophy Point is a winner in my book. This crew is a barrel of laughs! Domenica and Michael were so sweet, tender, and loving with each other. They shared a deep and obvious bond not just with each other, but with everyone who was there to support them on their big day. I felt so honored just to stand back and soak in this amazing energy!
Special Details
This stylish pair had an incredible eye for details! They made so many fabulous choices in their clothing and decor. I just love how they used sunflowers. In the bridesmaid bouquets as well as woven into beautiful trellis at their altar -- these classic yellow flowers truly pop. What an inspired color choice to offset the beautiful fall foliage in New York! The yellow of the sunflowers looks truly magnificent against the deep magenta and purple tones of Domenica's bridal bouquet, and Michael's gorgeous corsage. Simply put, this has got to be one of the most dapper and well-coordinated bridal parties I've ever seen. I just LOVE those incredibly eye-catching -- and universally flattering -- emerald satin bridesmaid halter dresses. Wow! That's how you do jewel-tone!
The groomsmen look just as sharp, with their matching deep purple ties and snappy suits. The slight difference between Michael's blue suit and his groomsmen's black suits looks incredible. What a neat style decision!
Domenica selected the perfect bridal gown, too -- that delicate beadwork and the eye-catching trumpet silhouette look truly stunning on her. And the classic mantilla veil provides such a stunning contrast against Domenica's gorgeous dark hair. Congratulations, Domenica & Michael!
‍